Tips from Caregivers


With so many people bearing the emotional and financial brunt of being a caregiver, we looked for the best tips to help ease the day-in-day-out stress that comes with such an important role.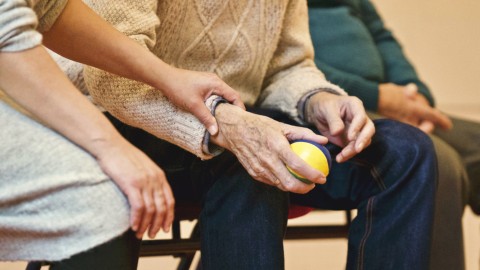 According to the study completed by the National Alliance for Caregiving and the American Association for Retired Persons (AARP) titled, "Caregiving in the US", nearly 40 million Americans were providing unpaid work to people disabled, older, or otherwise in need of assistance in 2014. This number is expected to rise to 45 million by 2020. Today, one out of two Americans turning 65 will need long-term care assistance during their lifetime. By 2020 caregivers will be giving assistance for an estimated 117 million people. Kamilah Williams-Kemp, vice president of long term care at Northwestern Mutual writes, "As people live longer, the need for some form of long-term care will continue to surge."
The senior care service, A Place for Mom, interviewed 3 caregivers, Carlen Maddux, Feylyn Lewis, and Susan Hamilton, for their advice on how they helped to personally care for members of this growing population. They each had very unique caregiving experiences, but this is what they had to say:
Ask for Support and Help
Feylin Lewis said she never asked for help or support with her caregiving as an adolescent because she was worried about being a burden on others and did not want people to worry about her. Today she sees this as huge mistake and has even become a researcher on young adult caregivers, making it her mission to try to get them the support and awareness that they need. Resources like respite care and home health aides can help people like her avoid caregiver burnout when they are tasked with round-the-clock care for family members.
Carlen Maddux took a weekend off from caregiving for his wife every month when his children would come and watch her instead. He worked in an office during the daytime and would come home to care for her at night so the monthly respite was very necessary. He also spoke about a friend of his who is a caregiver for his own wife who keeps a weekly schedule of friends who help transport her to where she needs to be for appointments. This can be a great way to get a group involved to do small things that add up to big help for the caregiver.
Susan Hamilton found the resources of local organizations to be invaluable to her as a caregiver. She personally relied on help from her church, library group, A Place for Mom, and the Alzheimer's Society.
Additionally, Lewis and Hamilton both remarked that finding caregiving support groups over social media and exchanging ideas was a very helpful tool throughout their journeys. The internet has a plethora of resources and can connect you to others in a similar situation even if they may be far away.
Seek Financial Advice and Aid Where You Can
The financial cost of caregiving takes a huge toll on caregivers. According to the AARP, caregivers spend an average of $6,954 on out-of-pocket costs related to caregiving every year. Having disability insurance, long term care insurance, or short term care insurance can help to mitigate these costs.
Additionally, Carlen Maddux suggests investing in an elder care lawyer that can help let you know what services you qualify for and can take advantage of, such as Medicaid. He said, "I'd be flat out broke," if he had to pay for nursing home expenses that his wife needed after she exceeded the level of care he could adequately provide at home.
Some local organizations also provide services to help defray home care costs.
Take Care of Yourself First
Isolating yourself means it is harder to ask for help. Sometimes there is a stigma attached with caregiving, or, for the person needing care, telling people about their diagnosis. Although everyone's situation is different and you have a right to privacy, sharing your story and being open with your needs may lead to help from unexpected places. Isolating yourself can lead to caregiver burnout and feelings of frustration and being overwhelmed.
Taking care of your own needs is always easier said than done as a caregiver. Susan Hamilton says, "Self care is the last thing a caregiver has time for."
Feylen Lewis suggests prioritizing what you need to do as a caregiver and giving yourself permission not to have to do it all.
Meanwhile Carlen Maddux kept a journal while caregiving and found it to be a therapeutic way to process everything that happened during the day. After his wife passed, he also found reading through the journal an important part of his grieving process.
Advocate for Others
People often say that caregiving never ends- once a caregiver, always a caregiver. After you have gone through it yourself, think about sharing your story or providing your services to others in need. Carlen Maddux, Feylyn Lewis, and Susan Hamilton all emphasized that they enjoy paying it forward to other caregivers now that their own caregiving role is over.
Conclusion
The emotional and financial toll of caregiving is huge. Always remember you are not alone. Do not be afraid to ask for help from family, friends, and local organizations. Take care of yourself and make sure to avoid caregiver burnout. Look into disability, long term care, and/or short term care insurance for yourself and others in your family if you haven't already. If you have any questions be sure to visit www.BaygroupInsurance.com or call 410-557-7907.
Sources
Noteworthy. Benefit Specialist Magazine. May 10. <www.benefitspecialistmagazine.com>.
Caregiving Innovation Frontiers. AARP. Jan 2016. <http://www.aarp.org/content/dam/aarp/home-and-family/personal-technology/2016-01/2016-Caregiving-Innovation-Frontiers-Infographics-AARP.pdf>.
Fowler, Kimberly. "Exceptional Caregivers Share Their Tips". A Place for Mom. 6 Mar. 2017. <http://www.aplaceformom.com/blog/3-06-17-exceptional-caregivers-share-tips/>.
Long-Term Services and Support for Older Americans: Risks and Financing. Department of Health & Human Services. Feb 2016.<https://aspe.hhs.gov/sites/default/files/pdf/106211/ElderLTCrb-rev.pdf>.
Jenkins, Jo Ann. "Caregiving Costly to Family Caregivers." AARP. 14 Nov. 2016.
<http://www.aarp.org/home-family/caregiving/info-2016/caregiving-costly-to-family-caregivers-jj.html>.