Protect Yourself: The Benefits of Individual Disability Insurance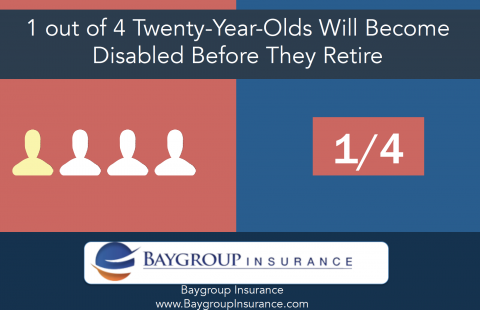 What if you cannot continue to work in the field you are in now due to an illness or accident? Would this impact you and your family? Studies show that 1 out of 4 twenty-year-olds today will become disabled before they retire. With this unfortunate reality, protecting your ability to make an income is crucial. Individual disability insurance is a way to protect your income from unforeseen illnesses and accidents that lead to disability.
It pays out benefits in the form of a paycheck during the time period when you cannot work. It can be used on top of other types of disability insurance, or, as a stand-alone policy, providing an invaluable lifeline in times of trouble.
A wonderful example of the benefit of individual disability insurance, is that of a surgeon who was unexpectedly diagnosed with a brain tumor. "I thought, 'It'll never happen to me.' Yet overnight, I was a shadow of my prior self…literally learning how to walk again," he writes. He had a group long-term disability policy through his employer, but in order to maintain the type of lifestyle he had created for his family he had purchased individual disability insurance as well. In doing so he was able to eliminate the financial worry from a long and uncertain recovery. "Having the insurance allowed me to concentrate on my recovery. Not having to worry about covering my bills and expenses during that time was invaluable to my family."
When it comes to individual disability insurance there are many misconceptions. A few include:
"I'm healthy- I don't anticipate needing disability insurance." The truth is that even though you may currently be healthy, most disabilities happen unexpectedly. They can be brought on by sudden accidents or unforeseen illnesses such as heart conditions, strokes, cancer, etc. In fact, people are two-hundred-forty times more likely to incur a disabling injury than suffer a fatal injury.

"I can't afford more insurance." Policies can be tailored to your specific financial situation, costing as little a month as what each of us would spend on coffee or dinners out.

"I already have disability insurance through my employer and/or the government." Disability insurance through your job might not cover you for as much as you actually need and the benefits are taxable, while individual disability insurance benefits are tax-free. Additionally, Social Security disability benefits can be difficult to obtain sometimes. Having individual disability insurance serves as a wonderful supplement to a plan you may already have in place.
Do not fall into these traps as your income is very often your most valuable asset. Hopefully you will never need disability insurance, but if you do your employer policy or relying on Social Security may not be enough. Contact Baygroup Insurance today at 410-557-7907 or visit our website http://www.baygroupinsurance.com to learn about affordable individual disability insurance policies that can be customized for you.
Sources
Principal Financial Group. Aug 16 2016. https://www.principal.com
Injury Facts 2012 Edition. National Safety Council. Sep 21 2016. http://www.nsc.org/